At a glance
The KCT is the world's first patented vortex turbine, operated using the spin as distinct from the fall of water, in the waterway, reservior or on land.
The KCT harnesses the energy in a vortex, drawing from the Coriolis Force to produce approximately 27% more electricity when combined with a conventional turbine, as revealed during proof of concept testing at Kalorama.
The KCT has been reviewed and endorsed by Dr. Harry Schaap, Federal Advisor for Renewable Energy. In turn Austrade has endorsed The KCT and included it on its Clean Energy Export Directory.
WATERWAY EMBODIMENT OF KCT

TRANSPORTABLE EMBODIMENT OF KCT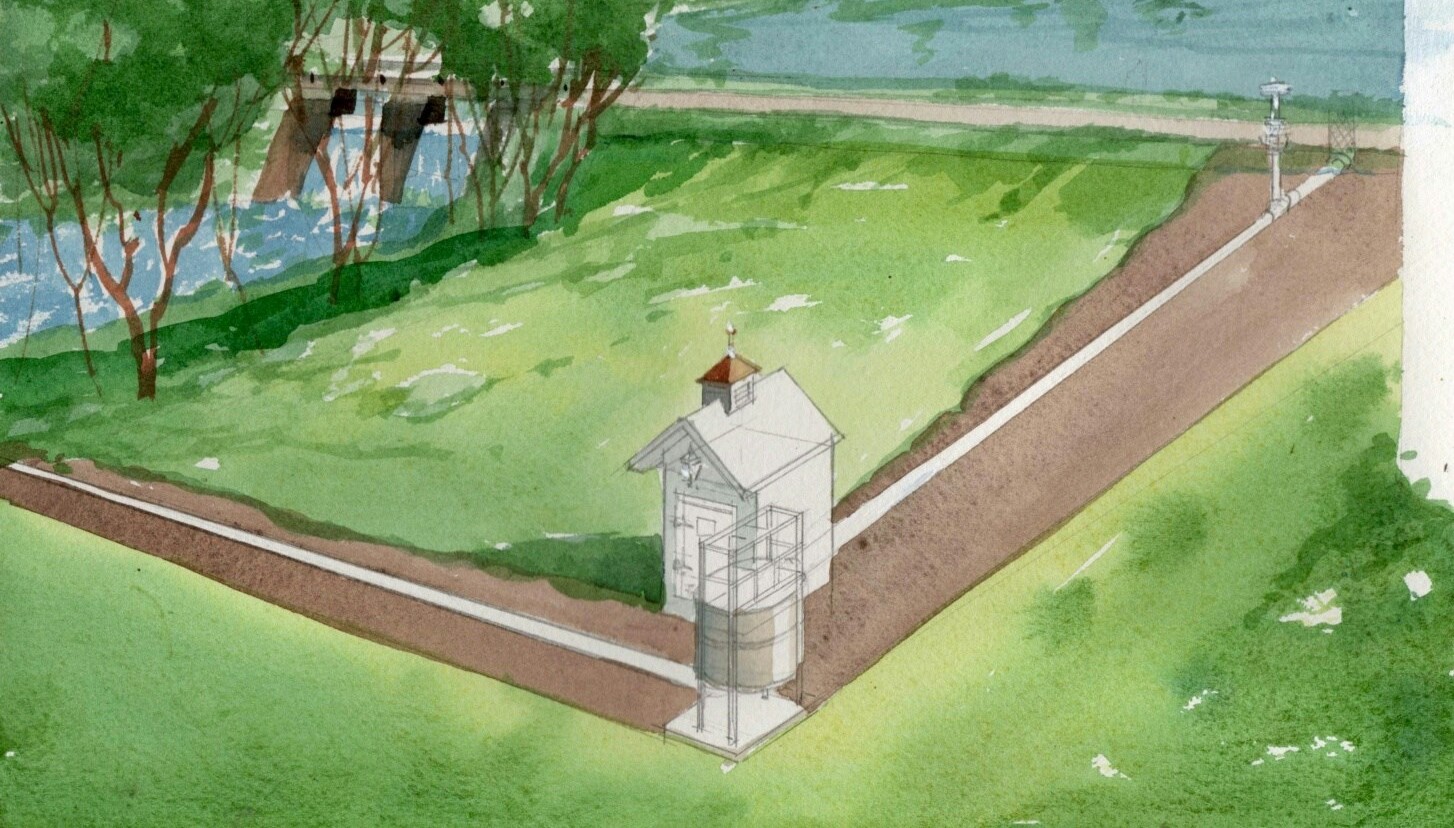 PIPELINE (PICO) EMBODIMENT OF KCT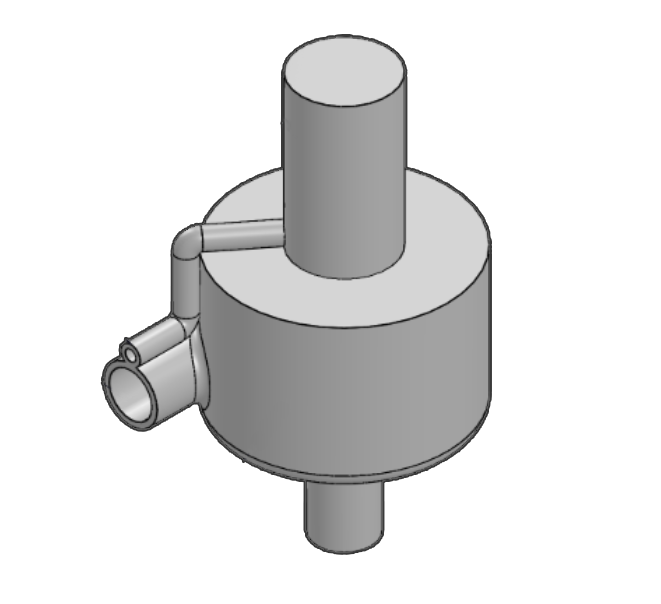 The Pico KCT
Small-scale vortex hydropower
The Pico KCT is a micro hydro vortex turbine inside a small chamber, with a DC generator on top. It delivers electrical energy in DC at any voltage required.
The Pico unit does not affect the flow of the system due to the suction of the vortex. In addition, there is minimal impact to the water pressure. As with any KCT unit, power will be generated at any time when water is flowing through the vortex system; enabling the Pico to supply power to the battery of a multitude of micro devices, such as a smart water meter.
Patent Protection
Since 1998, all 18 key nations of relevance to the K.C.T. have in due course been secured and brought under the intellectual property umbrella with the Mark1 KCT vortex turbine.
The global KCT mini hydroelectricity market is protected, with Mark2 patents now also being sought in an additional 60 countries. If you are interested in a JV, please contact us.

Granted Patents

Granted Mark1 & Mark2 Patents
Mark2 Patents Pending in Europe, Russia, China, India, Pakistan, The Middle East, Asia, Oceania, Africa, North America & South America.
The KCT Compared
<1 month
Construction time
Marysville KCT Vs Conventional Hydropower
The KCT uses the flow not the fall of water, and can operate with a very low head, well under the 3 metre minimum required by conventional turbines to operate efficiently. Furthermore it does not interfere with the flow rate, which enables the system to be used sequentially in a waterway.
The KCT is especially designed for low head applications over traditional Kaplan and Francis type turbines, due to the increase in efficiency it provides; as can be seen on the graph.
At Marysville, the KCT hydro plant generated 550 watts using 110L/s of water flow with a fall of 0.6 metres. This equates to about 5 Watts per litre/second using flow only, not water pressure.
A turbine's efficiency can be determined by the standard formulas, and the output identified in the graph was extrapolated from available data. However it should be noted a Kaplan or Francis turbines could not be installed and operated at the Marysville site with this low head.
Standard Formula: Gravity * Head * Flow Rate * Efficiency = Watts Output
KCT: 9.81 m/s2 * 0.6m * 110 l/s * EFF = 550 watts. Efficiency = 85%.
Kaplan: 9.81 m/s2 * 0.6 m * 110 l/s * EFF = 180 watts. Efficiency = 28%.
Francis: 9.81 m/s2* 0.6 m * 110 l/s * EFF = 300 watts. Efficiency = 46%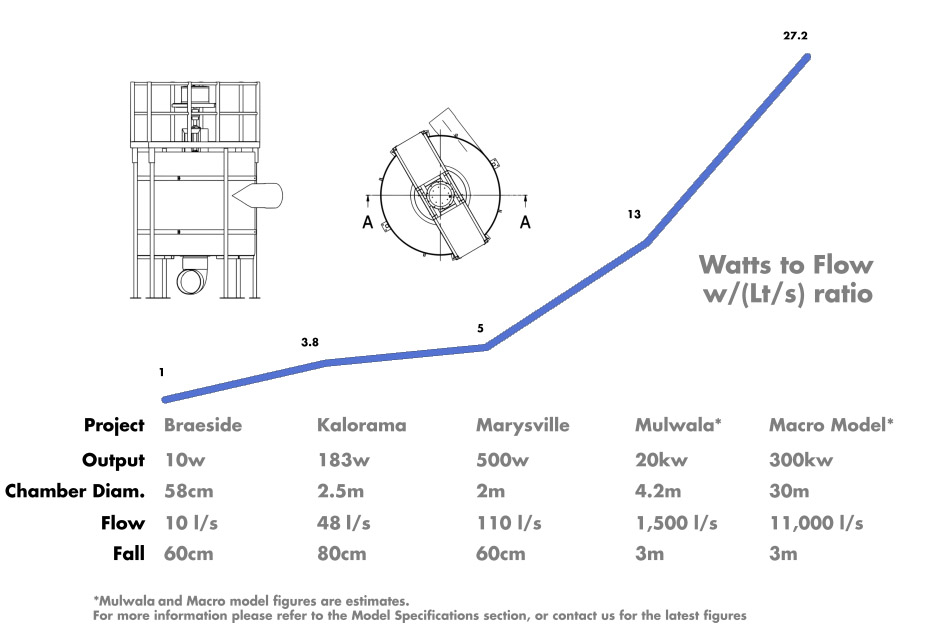 Exponential power increase
The following KCT graph supports the proposition that vortex power is an improved form of hydroelectric production over conventional head of pressure hydrology. The graph shows that watts per litres/second and vortex power appears to increase in an exponential curve, as vortex size increases. The power does not appear to increase lineally, as the standard formulas would dictate.
With the KCT, power increases exponentially because the volume/mass increases exponentially with vortex size due to πr2 x depth. Accordingly, a vortex chamber of 2m x 2m = 6.28m3/tons whereas a vortex chamber of 4m x 4m = 50.24m3/ton.
DEMONSTRATION UNIT
Marysville, Victoria
COMMERCIAL UNIT
Porogia, Greece
Interested in how this can work for you?